MAIN TAKEAWAYS
Always check and test your livestream setup in advance, to catch any last minute issues.
Including a scent brought in another sensory element to the hybrid event and helped bring audiences together.
With the right audience and expectations, you can push the bar with experimental events.
In 1964, Marshall McLuhan wrote about the concept of the global village, proclaiming that "we have extended our central nervous system itself in a global embrace, abolishing both space and time as far as our planet is concerned." Almost sixty years later, we're still asking how different forms of media can bring us together across time and space. With this experiment, we wanted to explore just that. The Hmm @ 4 locations was a decentralised event that took place simultaneously at four locations in four provinces in the Netherlands. This event was one of our most challenging experiments and – as far as we know – it was the first time something like this had happened in the Netherlands!
The idea for this hybrid format emerged during our conversation with live-ness researcher Esther Hammelburg. Esther questions the role of being together in one place in creating a sense of togetherness. During this experiment, we wanted to investigate just that. How can we create a sense of togetherness across four locations? The Hmm @ 4 locations was hosted in Amsterdam, Rotterdam, Utrecht and Eindhoven and, of course, also online. We invited eight speakers to join us across all four locations. Each location had two speakers physically present there, and the other speakers were followed via a livestream.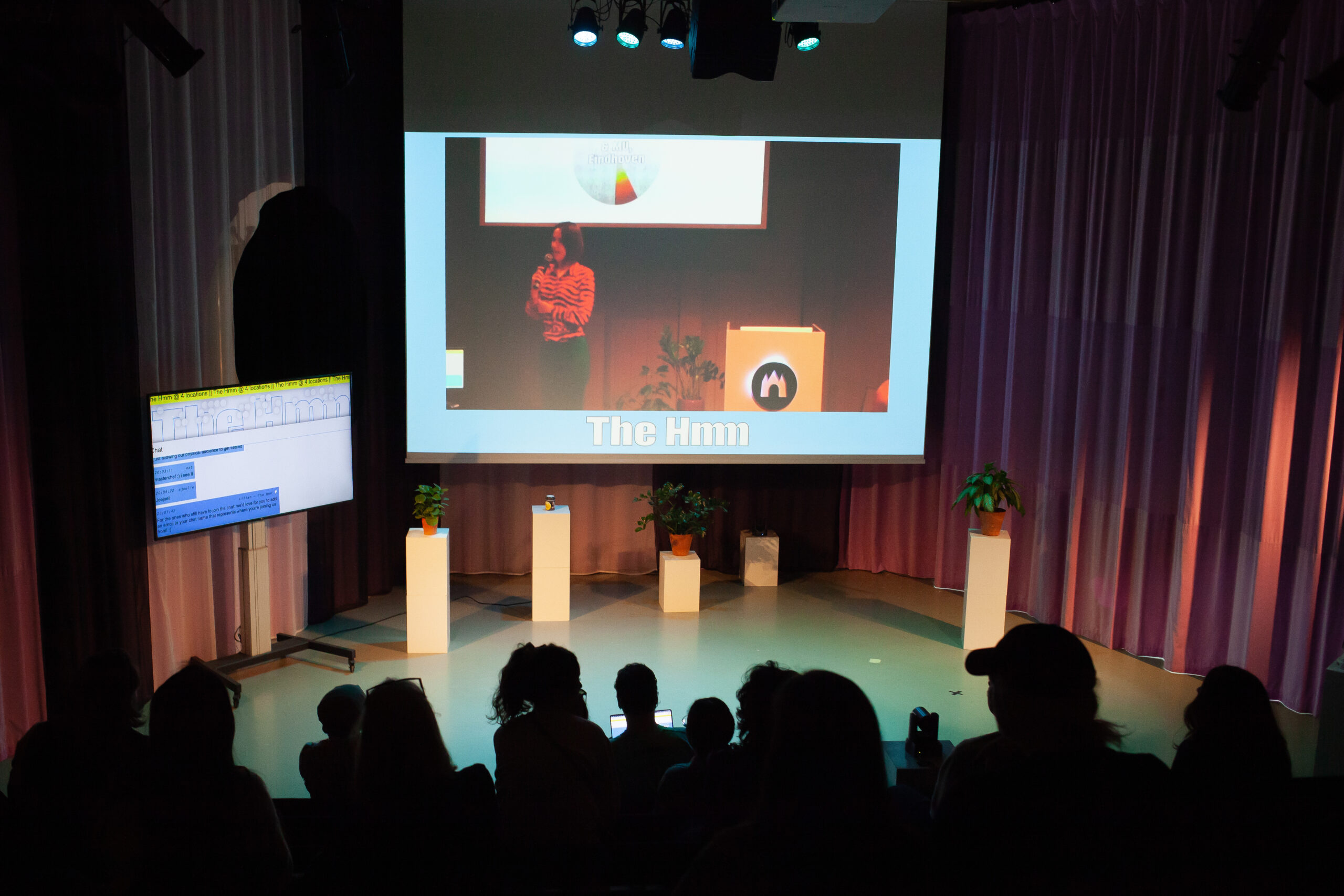 Set-up
Visitors could either buy a ticket to join us at one of four physical locations, or follow online. We started our tour in Amsterdam, where we first introduced our new scent, 'Hmmosphere', followed by our first two speakers. In the other three locations, visitors followed the event via a big screen displaying our live-stream website – the same view the online visitors would see. One by one, we went through the physical locations. Our technicians at each location kept everything running smoothly and ensured the livestream kept up with the real-time event in the right place. In the final moments, all four locations came together and collectively performed a 'wave'. From one place to another across the country, the audience performed this gesture altogether and (hopefully) created an even deeper sense of connection.
Of course, some things worked better than others. It took a little work before everything was up and running the way it should be, but after a little struggle in Amsterdam, the rest of the event went smoothly. To ensure everything worked as it was supposed to, we had at least one Hmm team-member present at every location, with additional help from the locations' teams. The locations' technicians were particularly vital in ensuring the event worked out.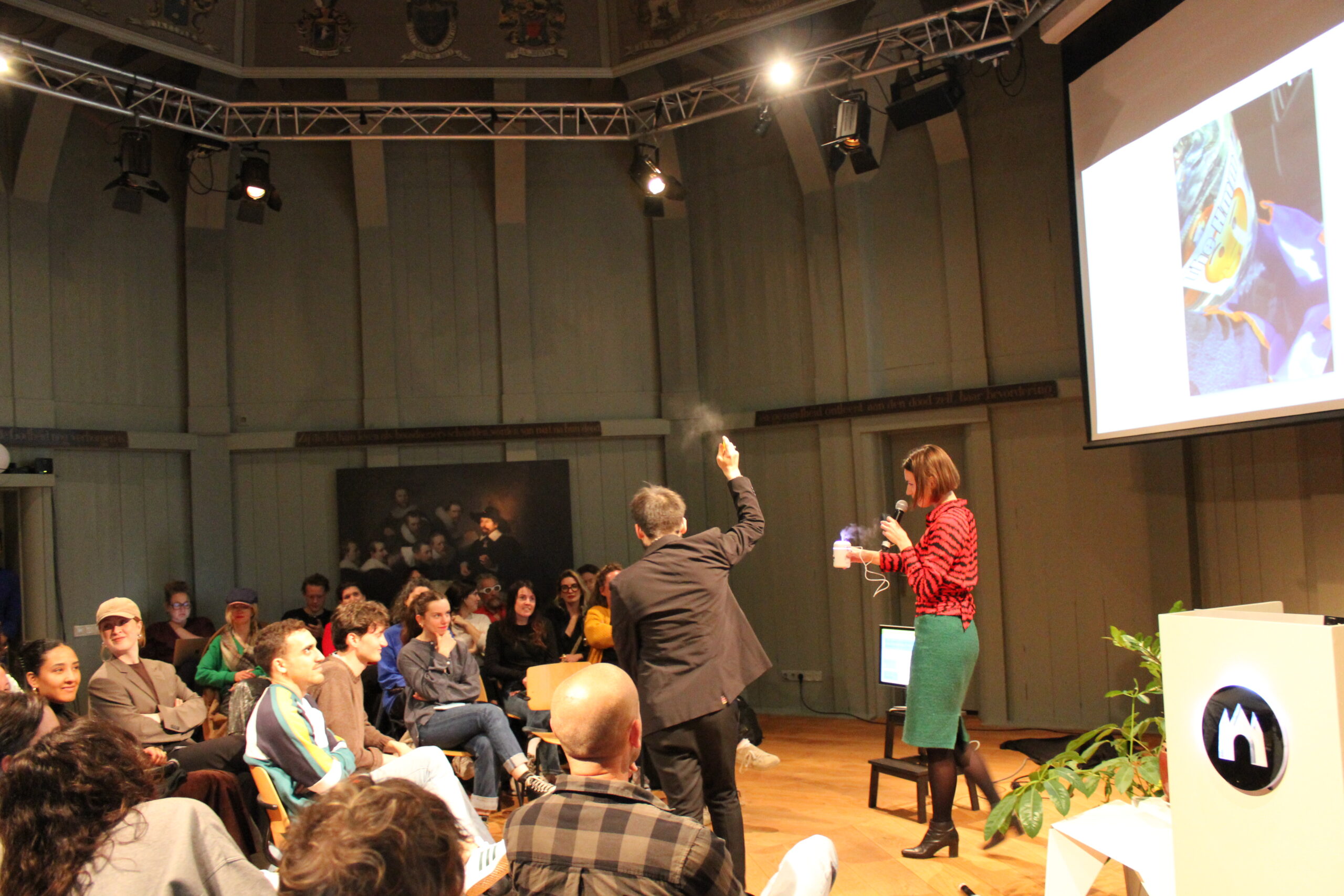 Hmmosphere
Leading up to this event, we collaborated with artist Cesar Majorana to develop our very own scent, Hmmosphere. Being online stimulates many senses, except our sense of smell. Hmmosphere is a scent that encapsulates the smell of the internet: creative, experimental, critical, transparent and weird. The world of The Hmm translated into one diverse scent experience. We asked our audience what they thought Hmmosphere smelt like:
"Grass in a server room."
"New computer, clean clothes, artificial nature." "Foraging mushrooms."
For the launch of Hmmosphere during this event, we offered a special ticket for those online who wanted to share the experience the Hmm smell with those physically present and sent them a bottle before the event. At the start of the night, we took a moment to reflect on the process of creating Hmmosphere, and then together at the four different locations – and online – we spread the scent through the room to make each location our own.
"Since I was a child, I have been dreaming of transferring scents online. It is not possible as of yet. With the current technology, sending via mail is the second best option."
Read all about the creation of Hmmosphere on The Hmm's website.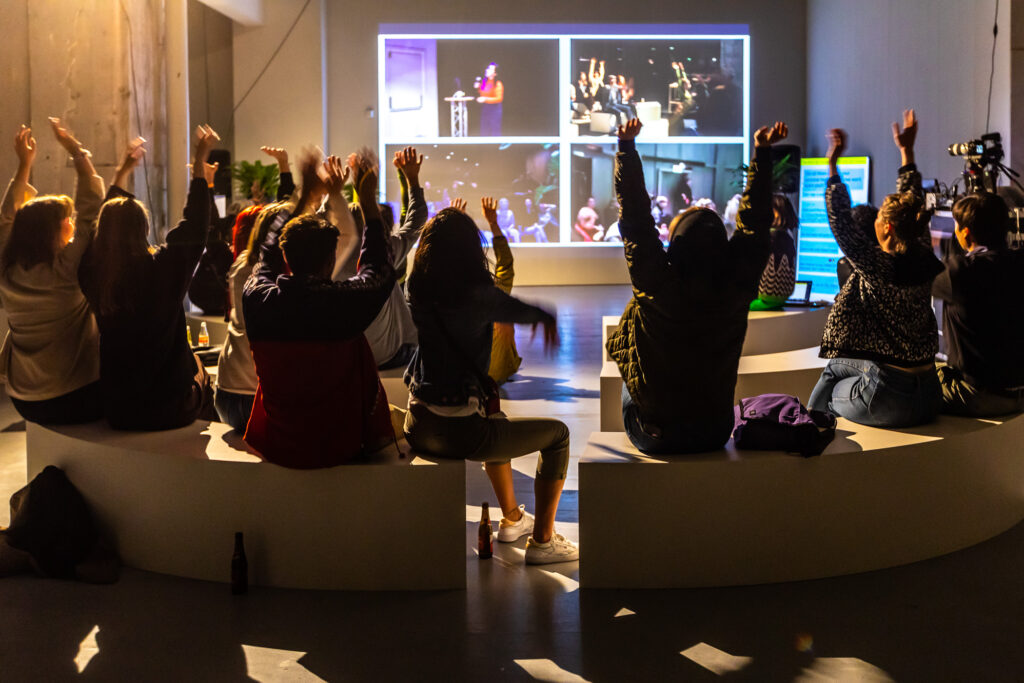 Visitors' responses
Visitors were positive about the experiment, despite some technical difficulties throughout the evening. We asked them what togetherness meant for them in relation to online and offline events. Most agreed that being onsite brought a different sort of connection between them, because it is easier to share ideas and experiences when you are next to each other:
"Knowing more people are present at the same event is nice, but meeting them or chatting with them, or somehow interacting with them, is really nice for me, as we can discuss the topics or just meet each other."
Others commented that it's also already satisfying to know that other people are watching the same event, something that our livestream website attempts to do by showing the number of people online and allowing them to chat or display reactions:
"It's nice to find a certain connection, often the chat works good. Today the collective drawing was also nice :)"

"It's great to experience things all together, even if that together is mediated through a platform/stream."
Everyone agreed that just watching a livestream with no one to interact with or feel connected to is hard to value.
"The physical and digital interconnectedness of 4 locations enabled me to sense the interconnectedness with the online participants more strongly."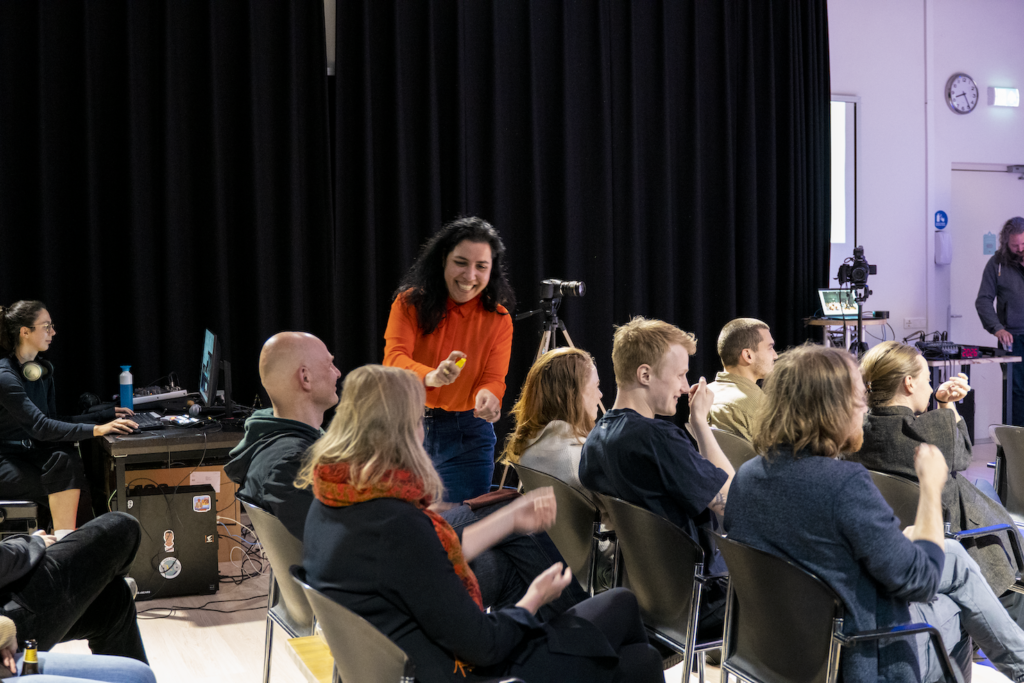 Learnings and Insights
Always make sure you check your technical setup at least a few hours in advance on the day itself. It always takes longer than expected, and things always happen last minute.
The scent was an exciting addition to the experiment, and the simultaneous moment of spraying across all four locations definitely brought a sense of togetherness between the cities. Online visitors were invited to spray along with us, if they bought a ticket that included a scent.
The visitors were all excited to be part of an experimental approach to an event. Even when things went less than smoothly, they were very patient and understood it as part of having an unusual setup. This is good to remember when feeling nervous about being more experimental: with the right audience and expectations, it will be a success in any case.
"It is an amazing research project as I truly feel that it enables us to feel and work with the fusion of the digital and the analogue in a more 'natural', a more encompassing and hence more valuable and positive way."
Credits
The Hmm @ 4 locations was put together by The Hmm. The speakers presenting their projects were Ester van Vugt, Ola Bonati, Timo Meilof & Kwan Suppaiboonsuk, Suëda Isik, Ying-Ting Shen & Yu-Ching Chiang, Ananya Panda, Lulu van Dijck, Ted Oliekan and Marta Ceccarelli.
Design of the livestream website by Toni Brell, development by Karl Moubarak.
Design and development of The Hmmosphere by Cesar Majorana.