Even tot hier is a Dutch satirical news show with a live audience. The hosts, Van der Laan & Woe, go through the last weeks news in a musical format, and quiz the audience about their knowledge on current affairs at the end of the show. The member with most correct answers is dubbed 'the all-knowing' and invited to answer the final question on the show.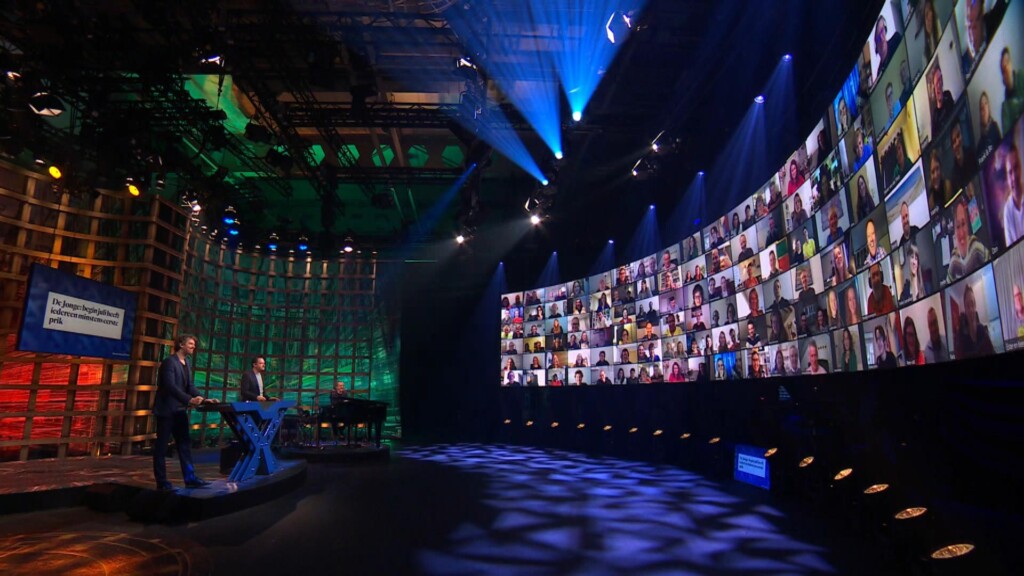 Like all live shows, in 2020, they had to come up with a way to translate their production to a pandemic-proof version. In season three till five, the audience appeared on a large screen in front of the hosts, video calling in from their homes. They wave at the camera and laugh at the jokes. Their invited guests appear highlighted in the middle of the screen when it is their turn to talk about something the pandemic cancelled for them. The quiz questions are answered by holding up anything the corresponding colour to your chosen answer. At the end, the 'all-knowing' is highlighted in the middle of the screen and gets to decide which cancelled event, discussed earlier in the show, should happen anyway. The show ends with a pandemic-proof version of that event happening for the disappointed guest from earlier.
By season six, Even tot hier could host a small live audience again, and transitioned to a hybrid format. Most audience members still appeared on the screen, but a small number was present in the studio. At the end of the quiz, two "all-knowing" were appointed, one in the studio and one at home. At the end, the "all-knowing" audience member in the studio would go down a slide in the space, leading to a joke at the end of season seven.
Credits
Produced by: BNNVARA and MediaLane
Hosted by: Niels van der Laan and Jeroen Woe
Music by: Miquel Wiels