MAIN TAKEAWAYS
Experimentation lies at the heart of the cultural sector, so we shouldn't be afraid to embrace it when hosting online or hybrid events.

 

An online component to an event can bring many new things, from audiences to experiences, and this is something to embrace, not shy away from.
When things go technically wrong during an online event, this can also give the audience a unique experience.
In March 2020, all cultural institutions had to suddenly change their plans. Because of the lockdown, physical visitors could no longer visit exhibitions, programmes, and performances that cultural institutions had worked on for months. The only way these productions could still be seen or experienced was via the Internet. But how do you do that? What's the best way to translate your art space into the confines of a browser window? How do you engage an online audience with your event? Every maker or organisation ran into these questions, and everyone tried to reinvent the wheel. The acceleration of these processes of digitisation – that the lockdown forced us into – has the potential to give the cultural sector a huge boost. Of course, we could approach our online events like a television broadcast, with good lighting and multiple camera angles. But there must be sufficient financial resources for this. Moreover, the cultural sector is predominantly a place with room for experimentation, where new things are invented, and later used by other sectors. Therefore, we clearly see a task for our institutions to develop new formats and approaches to presenting cultural projects. If we want to take our experiences during the pandemic to the next level, we must work together, learn from each other, and exchange knowledge.
In May 2021—towards the end of a long lockdown winter—we looked back on a year of organising online events with several people working in the cultural field. What have we learned so far? And how did we take these experiences with us when we could welcome physical visitors again after the lockdown? Here are some points that came up during the first online meeting we had together discussing these very questions: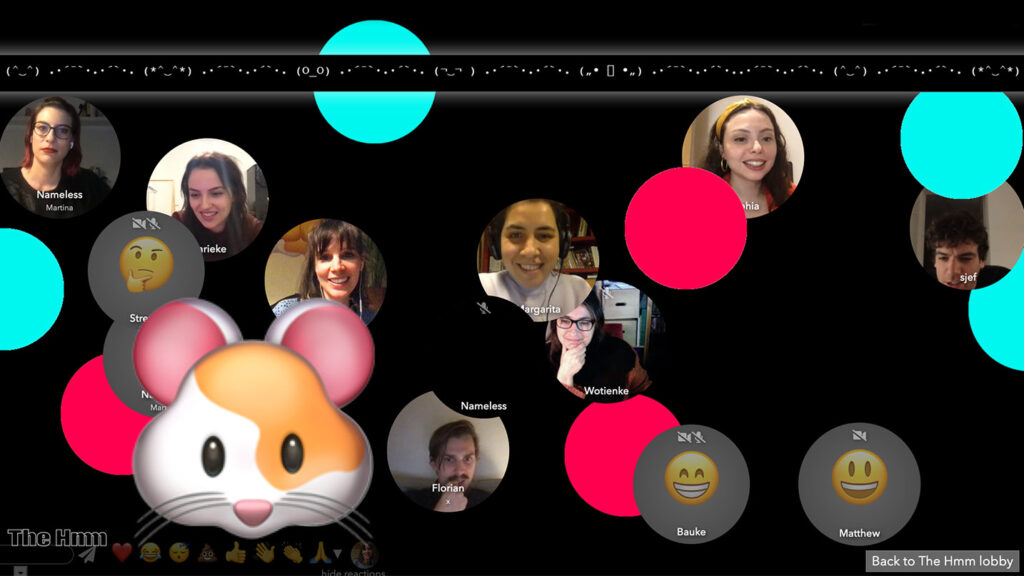 Online events have brought new audiences
Several institutions indicated that their online program had suddenly reached an international audience, which was not the case before the pandemic. One visitor joined an opening from the London underground and someone from Australia set her alarm for 6 a.m. to attend a lecture in The Netherlands. In addition to reaching audiences outside their geographic borders, the travel restrictions also made some institutions organise things hyper-locally instead. In this way, they developed a close relationship with residents.
Online events are more accessible
It's not only easier for foreign visitors (or speakers) to join an event online, but it also opens up accessibility for visitors within the country of the event. It can be a barrier to visiting a program in a city further away from where you reside. Even when we're allowed to travel across the country, some visitors prefer to follow the program online than jump on the train. This can also be the case because of financial or physical reasons or care responsibilities at home. Therefore, online or hybrid events are more accessible in many ways.
Online programming has remained, even though physical meetings are possible again
Because of the advantages of online programmes, most of the participants in this conversation have continued programming online and offer hybrid gatherings for the public and speakers. How? That's something we all struggle with, but it opens up many opportunities for creative and innovative thinking.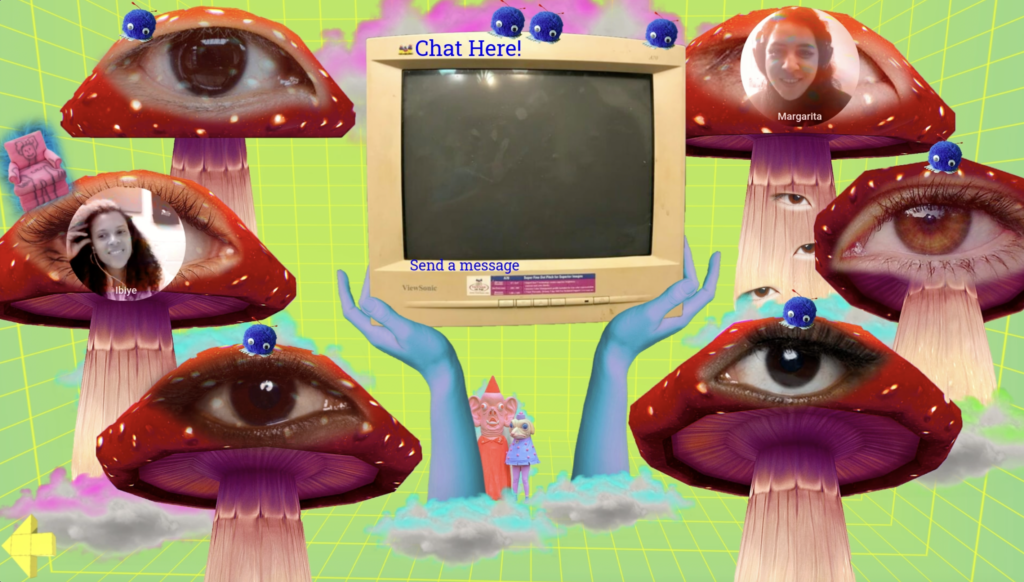 Offline and online should not be treated as a contradiction
Online and offline should be seen as an extension of each other rather than in opposition. We must understand the entanglements between the 'online' and 'offline' realms and learn how to apply this during cultural activities. We should remember that the online experience can be a completely different experience than the offline experience and that this is okay. To get a better sense of this, we can learn from sports tournaments. You can follow a football match in the stadium or live on television (perhaps even with face paint, banners, and with a group of friends). Both audiences experience an authentic live experience, but it is not the same.
How do you connect on-site and online audiences?
This is a challenge that everyone is still struggling with, which is especially relevant now that physical events are possible again. Allowing the online audience to be present in a physical space through a projection screen with Zoom squares is not the solution. What worked well for some organisations during this session was to send online visitors something physical, like a bottle of wine, or to invite them to do something with their environment (grab objects in their living room, cook, get dressed up, etc).
It's not only the event itself, but everything leading up to it, that matters
Normally, when you visit an event, you first get dressed up, followed by a bike, train or car ride to a physical location. This transition is missing when you visit an online event. All visitors have to do to attend an online event is open their laptop or even just a new browser tab. This lack of event preparation ensures that they can easily forget about going to an online event and it's just a small step to decide not to go. If you're hosting an event that people can follow from their living room, it's important to realise that the audience's physical space is different. You might be able to give them some tips to get them in the mood and make the transition into the event more fun and exciting.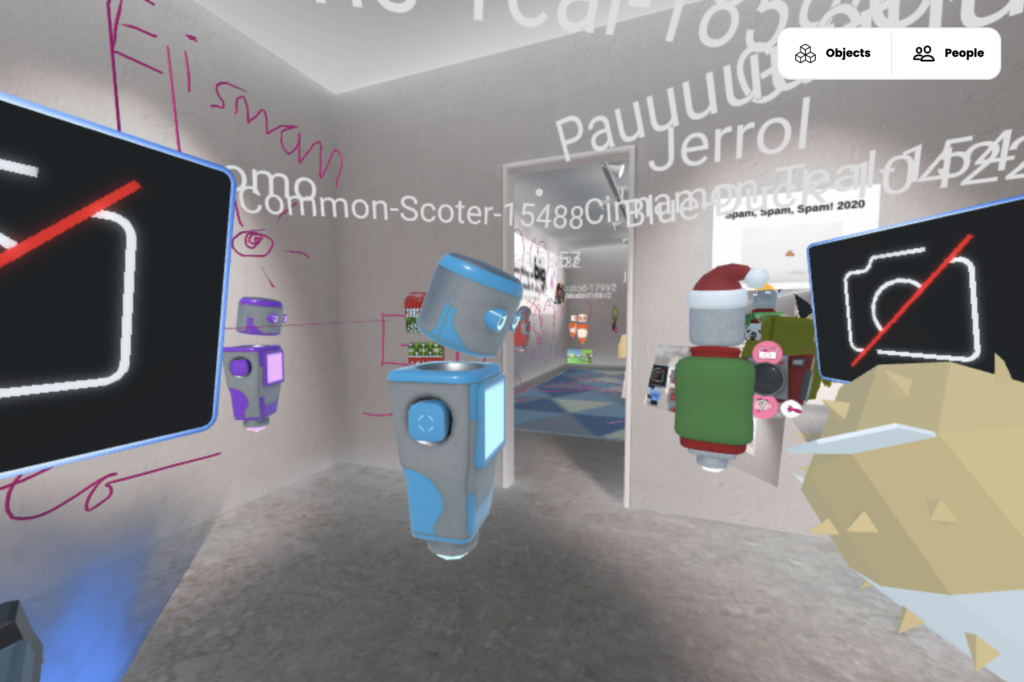 Experimentation is important
Many cultural, online events take place via Zoom or YouTube. The services of these Big Tech companies are comfortable: they are 'free', stable in quality, and easy to use because the public knows them. However, they are not the most privacy-friendly. As a public institution, you require attendees to share their data with US technology companies when they attend your event. By using these services, we contribute to the dominant position of Big Tech companies, even though we don't want to do that. While people are becoming increasingly aware of this, it is also difficult to find good alternatives. This may be because we accept fewer mistakes from technology. We're afraid it won't run smoothly and that the audience will be irritated by the disruptions, forgetting that during physical events, many things can irritate the audience (a long line for the bar, visitors who talk too loud, a broken microphone). When things go technically wrong during an online event, this can also give the audience a unique experience. It is perhaps even more interesting to be part of an experiment than to (passively) watch a smooth linear program, similar to a television show.
* This article was originally published as part of The Hmm's Hybrid Events dossier here: https://thehmm.nl/sharing-experiences-01/