MAIN TAKEAWAYS
See ME See YOU
Gamification for heightened participant engagement
The value of creating atmosphere
Dancing and moving bodies creates deeper connections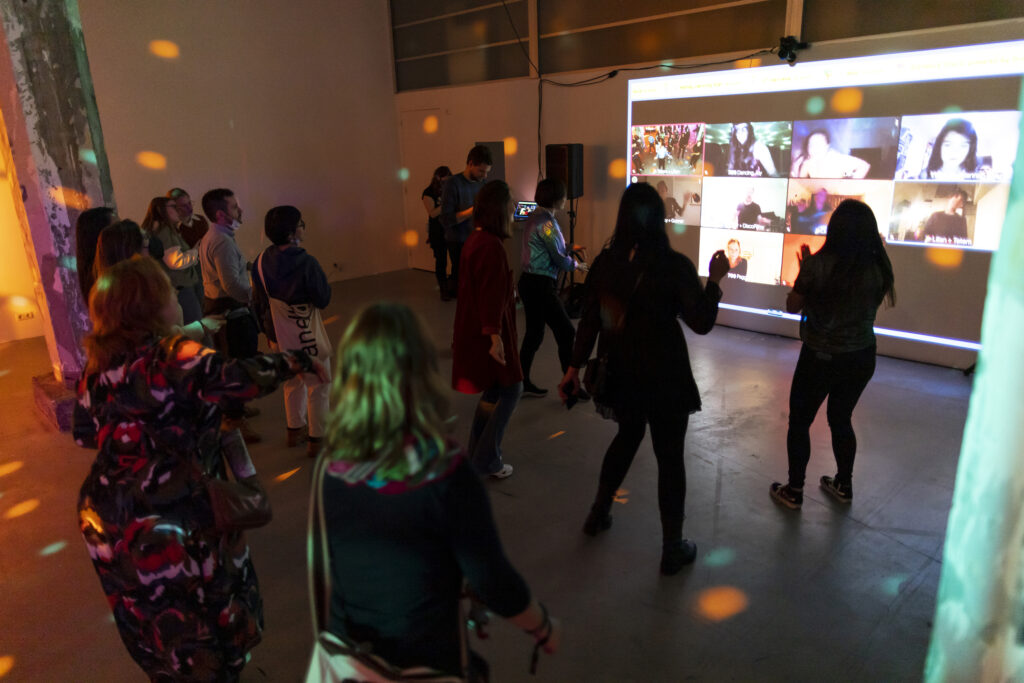 With the experiment DuoDisco (Hybrid) we researched the value of gamification and dancing bodies in creating a deep connection of a hybrid event. Within the project we created a gamified hybrid dance party at Tetem, Enschede. The project enabled participants to join online and on-site. The online participants joined through video conferencing interface (Jitsi), designed as a disco with bright and blinking lights. The on-site participants joined through a mobile web app. The game rules were simple: find the person dancing to the same song! When the on-site dance floor is connected to one of the participants online, they shared a moment of hybrid dancing via a webcam in the space.
"I really felt a connection with the online participants, because you had to keep concentrating on them, how they moved and sometimes even their mouth to see if they were lip synching."

Onsite participant in DuoDisco (Hybrid) at Tetem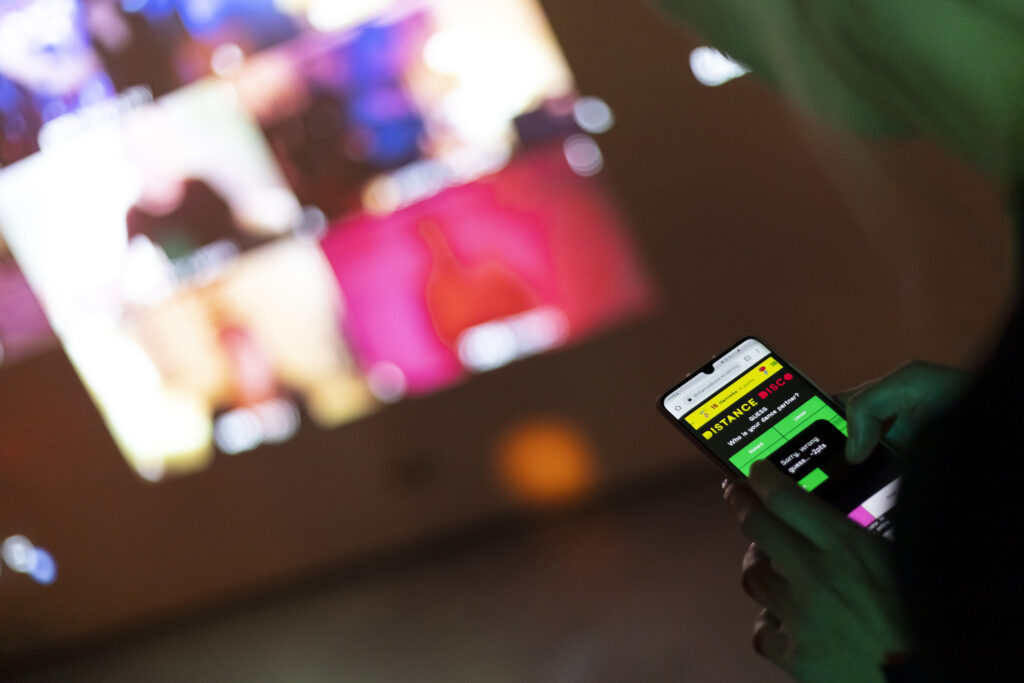 Gamification
The game element of DuoDisco (Hybrid) heightened participant engagement by providing a clear purpose and a shared mission. The game also sparked creativity from those who experimented with techniques to influence the outcome of the competition. We were stunned to see some dancers acting as decoys, purposely moving to another song to confuse and distract other players. The game part really drew the participants into the experience, which levelled out the commitment required. Members of either the physical or online group could simply have walked away from the dance floor, but the game component added an extra edge, keeping them engaged.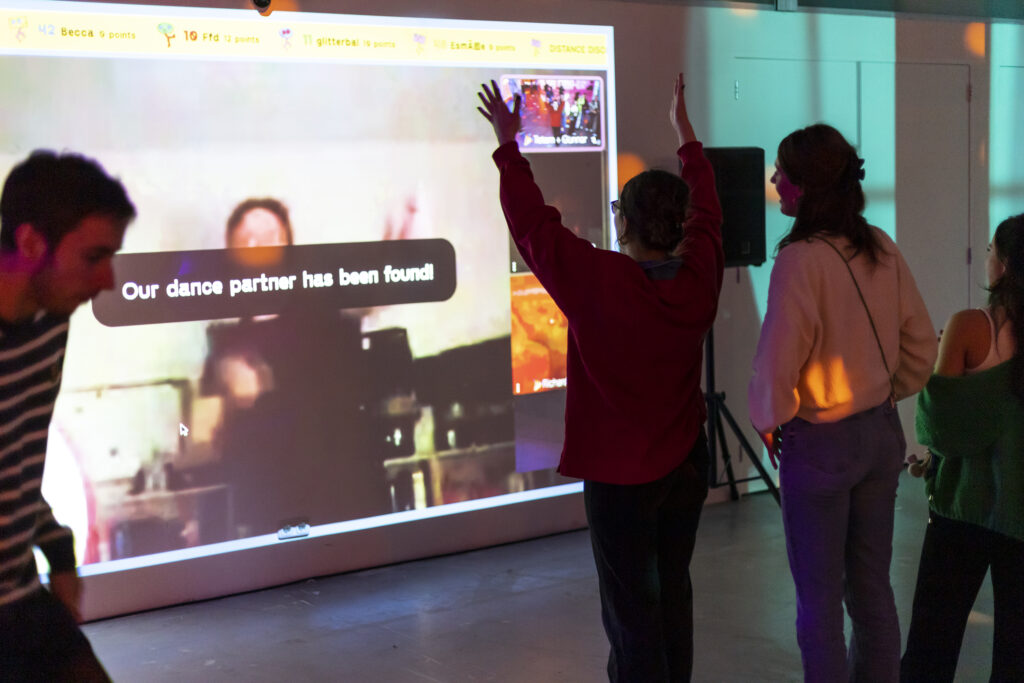 Lights, Camera, Action!
Regular dancers at Distance Disco know the value in creating atmosphere. They are really adept at pulling out props, setting up lights and getting all dressed up for the online party. At Tetem, we did the same – intentionally creating a similar party atmosphere with coloured lights and good sound. In addition, Tetem is a very alternative venue, situated in a warehouse-looking building with an edgy industrial look and feel. This contributed to a sense of expectation and atmosphere for the physical group of dancers.
"No dance, No life."

Distance Disco regular.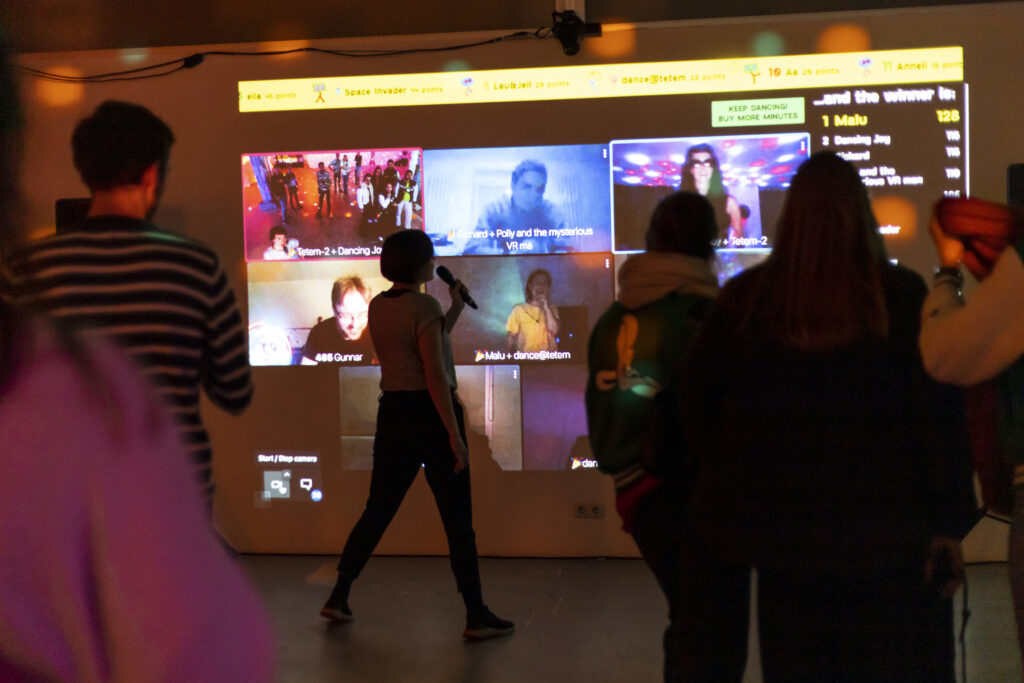 See ME See YOU
Equal visibility for physical and online participants is the highest priority in a hybrid experiment. We realised our error almost immediately. Since the physical dancers at Tetem were not (virtually) visible enough, the online dancers couldn't feel a connection to them. The online group only saw a small video frame with people dancing at Tetem, lacking any discernible features or gestures. This was in strong contrast to the physical audience who did feel a strong connection with the online group, thanks to the massive screen we put up for exactly this purpose. When the physical group correctly found their match online, that online dancer would appear enlarged on the screen, creating even more excitement at Tetem.
When both groups were able to let each other know they could see one other, it amplified the relationship between them. This happened through gestures – high-fiving each other, lip syncing, mirroring each other's dance moves, and even holding up hand-written notes. These gestures showed how reacting and interacting with each other is essential for strengthening the connection between the groups. When both groups are visible, they feel seen, and this gives a sense of acknowledgement and togetherness. Ultimately, a more intimate connection forms.
Read more about experiment here.
"Dancing allows me to let go of what I want to get rid of, to reload/strengthen and celebrate feelings of happiness […] to connect with other dance-lovers and to burn calories at the same time."

An online participant
Credits
Research – affect lab: Natalie Dixon, Anneli Huang Vanenburg, Klasien van de Zandschulp.
Creators DuoDisco (Hybrid) – Arjan Scherpenisse, Mark Meeuwenoord, Frank Bosma, Klasien van de Zandschulp.
Authors – affect lab: Natalie Dixon, Klasien van de Zandschulp (part of Hybrid Spaces).
Illustration – Iris Frankhuizen.
Photos – Ans Schuitema.
Location partner – Tetem, Enschede.